The Jane Austen Wrap designed and made by Karen Head for Hampshire Cultural Trust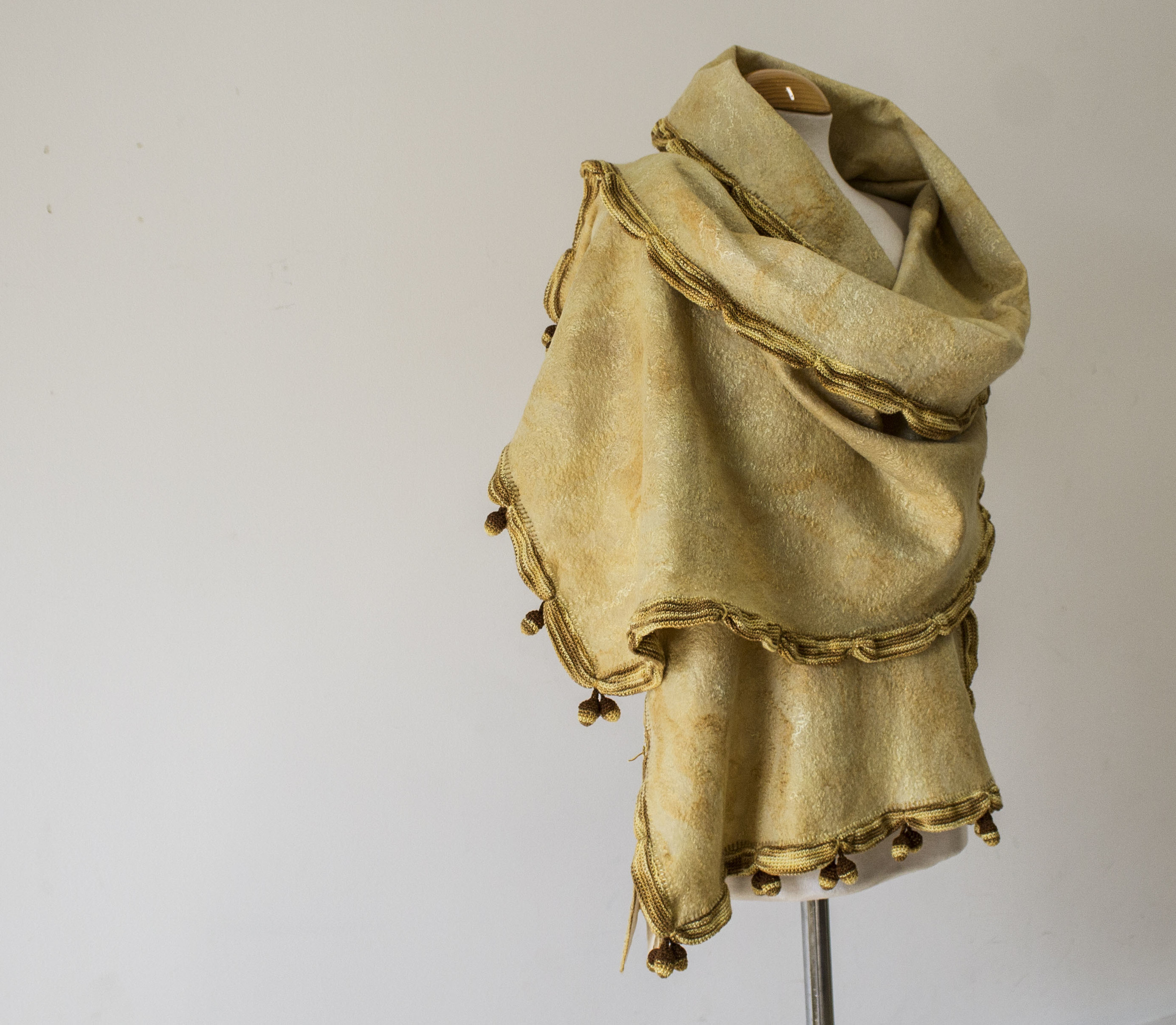 In January 2016, I was commissioned by Hampshire Cultural Trust, who care for the art and museum collections owned by Hampshire County Council and Winchester City Council, to design a luxury, contemporary product inspired by an iconic item in the collections.
The commission was part of the Creative Commercials Collection project piloted by HCT in partnership with the National Motor Museum Trust and supported by Jane Austen's House Museum and 'a space' arts, and challenged artists to take inspiration from historic collections and use these to create artworks with a modern twist.
My design was inspired by Jane Austen's Pelisse Coat, c 1814, a garment worn over a dress or gown, revealing just their cuffs and hem, in the way we would wear a cardigan today. It was made of a good quality silk in a twill weave, woven with a small repeat pattern of oak leaves in a colour of golden straw on a warm brown background. The oak leaf motif was popular when this pelisse was made and symbolised the strength of the Navy and the nation as a whole, especially when the country was at war with France.
I was struck by the sheen of the garment, its beautiful timeless colour and the adorable puffs which embellish the collar and wanted to create a contemporary, warm but elegant wrap that captured the essence of the original.
Hand dying the finest merino wool, silk fibres and silk chiffon in a golden colour, I used them to make the body of the wrap. I laid out a fine layer of silk fibres, followed by a layer of wool and onto this placed a length of silk chiffon, then a further covering of wool and silk. I wet them with soapy water and rubbed and rolled until all the fibres had felted to become a fabric.
I edged the wrap by hand with blanket stitch and crocheted around it to reflect the shape of the puffs on the pelisse using yarn of the finest mulberry silk made and hand dyed in India. Some of the yarn I over dyed in brown to make the acorns which reference the oak leaf design on the original garment.
The finished wrap is luxurious and comforting, and I'm proud to have combined a range of hand skills in a garment that encapsulates the lustre, richness and character of Jane Austen's Pelisse Coat.